Yesterday was Valentine's day, and Chano's birthday, so we had a party last night.
If they ever post some photos I'll cross post some here.
Today they went to Manila to deliver rice and do some meetings, so we are alone here (along with 9 dogs, two puppies, and 8 staff members).
I'm catching up with two days of internet rss feeds and podcasts since the router still won't let my computer talk with the modem.
-----------------------------
Those of you who are "fuzzy warm"spirituality type catholics might like this one:
Pray as you go has a Lenten Retreat...
no, I haven't listened to it yet: Not only won't my computer get on line (router problem? Wrong Address?) but now my MP3 player died...I was doing a software update on it and we got an unannouced brownout in the midst of the update....Now it won't even connect with the computer. Sigh.
Yes, I have another Mp3 player: It's a cheap one that won't let you shuffle etc so I have it programed with music. The good one I use for podcasts etc.
-------------------------------------
The
Ash placed on the head of Catholics
is to remind them they will die one of these days.
boring sermon moved to
BNN.
-----------------------
TeaAtTrianon
links to a
screed on a Fox site
that insists the actions of the Concordia, where women and children were not rescued first, proves that chivalry is dead.
Actually, that made a good story, but the western press missed the real story: that many crewmembers delayed their own rescues to help others. This is from a Filipino site.
Lokalo:
original story is from
GMA ON LINE:
Following the incident, some of the Costa Concordia's foreign passengers shared their experience to the media, highlighting the Filipino crew's effort to make sure they made it out safe.
"A French passenger said, 'Those who helped us were cooks and stewardesses, all Filipinos. They roped themselves together to help us get down to the lifeboats. We were able to get in at the last moment,'" the statement read.
and one intrepid Pinoy took this with his cellphone ....

As he helped out, Cartago also videotaped his Filipino colleagues—mostly cooks, dishwashers, and waiters—as they ran around, searching every nook and cranny to make sure that nobody was left behind the ship. Some of the poignant moments in the video include a Filipino cook running to the altar and making a sign of the cross, two Filipinos helping a limping colleague walk, and Filipinos letting the foreign passengers get out of the ship first.
Ah, but never let reality stand in the way of a good story, especially if the heroes are the "invisible men" of the world: our OFW's...
------------------------------
Irish blessings for lent here.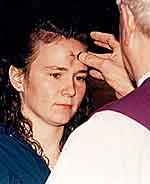 Blessing for Lent
Merciful God, you called us forth from the dust of the earth;
you claimed us for Christ in the waters of baptism.
Look upon us as we enter these Forty Days bearing the mark of ashes,
and bless our journey through the desert of Lent to the font of rebirth.
May our fasting be hunger for justice;
our alms, a making of peace;
our prayer, the chant of humble and grateful hearts.
All that we do and pray is in the name of Jesus.
For in his cross you proclaim your love for ever and ever.
From Catholic Household Blessings and Prayers
Photo Credit: Catholic Herald
------------------------------------------
Prof Podles who has written investigations of sexual abuse discusses
Benedict XV and his resignation...he has an interesting take on the power of the papacy, saying
that he isn't a dictator, but only changes thing with the consent of the bishops and laity.
Key item in the article, about sexual abuse is here:
. Benedict has done more that any pope in centuries (probably since Pius V) to end sexual abuse in the Church. He has not done enough, but he has done more than most bishops, priests, and even laity want...
Yeah: reminds me of Boston, where the worst abuser was a charismatic and popular "street priest" who was the idol of the liberal types.
---------------------------------
For later reading:
SEARCHING FOR CONSCIOUSNESS IN AN INJURED BRAIN. "We began to see patients who looked like they were vegetative, but they weren't. . . . They were beginning to show responsiveness, they were sort of breaking the rules."
Yeah. I've had a lot of patients who had fancy neurologists declare they were "vegetative" and should be starved to death, yet they could see and recognize family and staff and enjoyed TV and baths etc. But our stories of this were usually ignored.
from wired via
instapundit:-
-------------------------------------------
Ancient standard has more on
Richard III's wedding.
And they ridicule the hillbillies for marrying relatives...
------------------------------------
and Congratulations to
Professor Mary Beard,
who is the Oldie's pinup of the year.
She was branded 'too ugly for TV' and subjected to vicious trolling about everything from her hair to her teeth.




But yesterday Professor Mary Beard had the last laugh when she accepted The Oldie magazine's Pin-Up Of The Year award....




The professor of classics at Cambridge University, presenter of BBC2's Meet The Romans, said it has been 'stressful' coming under attack from online bullies, 'to a very large extent, women'.




But Professor Beard, a married mother of two, said the advantage of being 58 was that she felt able to stand up to her critics.
and the series is on line
HERE.