Anna Chennault, the wife of General Chennault of the Flying Tigers, has died.
BBC Article.
...
When Anna Chennault died last week at the age of 94, the world lost one of the most influential powerbrokers it had never heard of.
Also known by her Chinese name, Chen Xiangmei, she was a stylish fixture on Washington DC's political circuit - but also an unofficial diplomat who skilfully navigated the currents and eddies of 20th Century... politics....
To the Americans, she was a staunch anti-communist. But to the Chinese, she was a renowned war hero's widow. And to the Taiwanese, she was a key lobbyist who ensured vital US support....
so a pro Taiwan, anti communist Chinese on the wrong side of history?
Ah, but for the Chinese, China itself transcends politics.
So we see this:
To China, which still holds the Flying Tigers and Claire Chennault in high regard, she has primarily been seen as the keeper of her husband's flame.
In 2015, she even received a medal from Chinese President Xi Jinping....
She was also seen as a successful overseas Chinese figure, one who played a key and patriotic role as a go-between for the US and China when the latter began opening up after the Cultural Revolution. The Chinese press has focussed on her US political achievements, such as becoming the "first Chinese to have entered the White House" when she received a presidential appointment from John F Kennedy.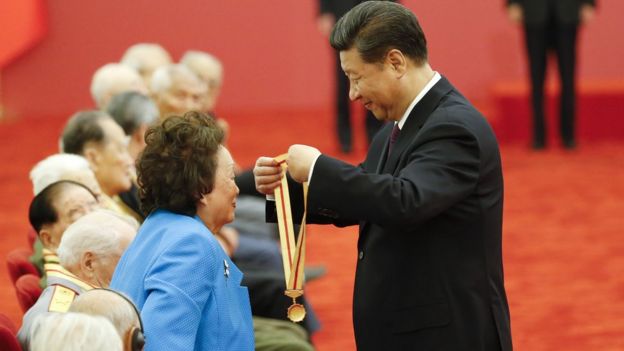 Photo: CNS. Mrs Chennault received the medal during state commemorations of the 70th anniversary of the end of the Sino-Japanese War
The Flying Tigers
were mercenary airmen (later USAAF) under General Chennault who helped Chinese resisting the Japanese invasion and helping China import supplies via the Burma road, and later from India "
over the hump
".
the entire Sino-Chinese war is pretty well forgotten by the history books in the USA, sigh.
Anna Chennault wrote a book about her marriage and involvement with the Flying Tigers, which can be borrowed from internet archives
LINK